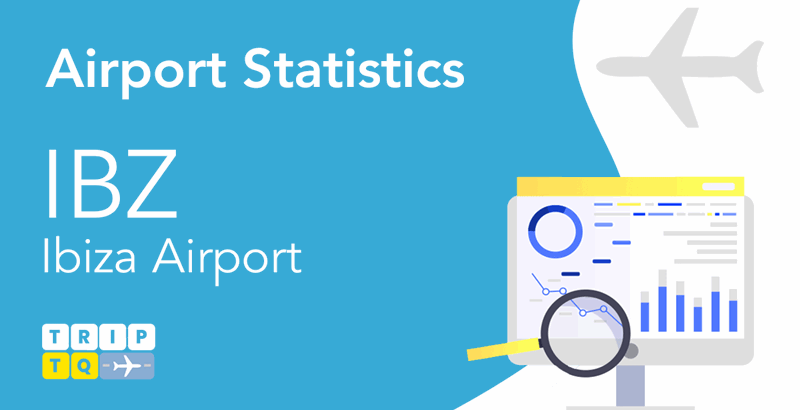 Ibiza Airport Passenger Numbers - Up 8% in July 2023
In July 2019, before the impact of the pandemic, Ibiza Airport recorded 1,332,411 passengers. Comparing this to July 2023, there has been a notable rise in the number of passengers, with 1,435,352 people passing through the airport. This translates to a growth rate of approximately 7.72%, indicating a significant recovery in travel demand and reflecting the attractiveness of Ibiza as a popular destination.
The rise in visitors can be attributed to various factors, such as easing travel restrictions, improving flight connectivity, and reopening tourism activities. This increase positively impacts the local economy, as the influx of tourists brings revenue to the hospitality, retail, and transport sectors.
Despite the challenges posed by the pandemic, Ibiza Airport has managed to bounce back and attract many travelers. Its remarkable recovery in passenger numbers compared to pre-pandemic levels in 2019 resulted from effective health and safety measures and improved regional connectivity. It can also be attributed to effective marketing strategies, collaborations between tourism boards and airlines, and the overall appeal of the island as a desirable vacation spot.
Ibiza attracts travelers worldwide, tourists flocking to experience its renowned nightlife, beautiful beaches, and vibrant culture. This global appeal ensures constant visitors, contributing to the airport's overall increase in passenger numbers.
The availability of direct flights at Ibiza Airport has increased over the years, enhancing connectivity, and making the island more accessible to potential visitors. Airlines have recognized the growing demand for travel to Ibiza and added new routes, catering to leisure and business travelers.
The presence of low-cost carriers has played a significant role in attracting budget-conscious travelers to Ibiza. These airlines provide affordable options for those seeking to explore the island while keeping their travel expenses in check. The availability of competitively priced tickets has encouraged more people to choose Ibiza as their vacation destination, increasing passenger numbers at the airport.
Ibiza's popularity as a premier holiday destination significantly influenced the surge. Known for its vibrant nightlife, breathtaking beaches, and iconic clubs, it has long attracted tourists worldwide. With the easing of travel restrictions and an increased desire for leisure travel, many individuals were eager to experience the island's unique atmosphere again.
These cultural and entertainment offerings catalyze tourism, attracting music enthusiasts and partygoers worldwide. The island's vibrant nightlife scene and stunning natural beauty create a unique appeal that has undoubtedly contributed to the surge in passenger numbers.
The consistent efforts of local tourism authorities and businesses to promote Ibiza as a must-visit destination have yielded positive results. Strategic marketing campaigns highlighting the island's diverse offerings, such as its historical sites, gastronomy, and outdoor activities, have generated interest among potential travelers.
These campaigns, coupled with the power of social media influencers and digital marketing initiatives, have played a significant role in increasing awareness and attracting visitors to Ibiza and its airport.
Ibiza has long been renowned as a popular tourist destination, particularly its vibrant nightlife and stunning beaches. However, one of the challenges for travelers in the past has been finding affordable accommodation during the peak season. To address this issue, there has been a concerted effort to increase the availability of budget-friendly hotels and accommodations on the island.
Many hotels have emerged that offer comfortable and affordable rooms, allowing travelers to enjoy their stay without breaking the bank. Alternative accommodation options such as hostels, guesthouses, and vacation rentals have also gained popularity in Ibiza.
These options often provide more affordable alternatives to traditional hotels, giving travelers more flexibility in choosing their accommodations based on their budgets and preferences.
Affordable accommodations have undoubtedly played a significant role in attracting more tourists to Ibiza in July 2023. Travelers now have more options, enabling more people to experience the island's beauty and allure.
UNBEATABLE VALUE CAR RENTAL

FREE
Amendments,
FREE
Cancellations,
NO
card fees!

airport_shuttle Need Airport Transfers?
Useful Information about Ibiza Airport