Ibiza Airport Departures (IBZ)
Not all flights may be showing. If not available use search above to find your flight by airline, airport or flight number.
Destination
Airline
Flight no.
Scheduled
Est./Actual
Status
No flight departures were found at Ibiza Airport.
Flight Departures at Ibiza Airport
Ibiza Airport is the aviation transport hub for the Balearic Island of Ibiza and the neighbouring island of Formentera.
The airport is well connected by road and sea; public transport is available via a shuttle bus service, via taxis and there are several well known car hire companies providing affordable car hire options for visitors. Ferry services connect Ibiza with other Balearic islands, as do domestic flights.
Travelling to the airport from Ibiza Town center doesn't take long as it is located just 4.3 miles/7.5 km distance from Ibiza Town center and the airport is also in close proximity to San José.
Most international flights in and out of the island are seasonal, operating only during the main tourist season which runs from May to October. Domestic air travel to mainland Spain destinations is available all year round for Ibiza Airport departures to Alicante, Barcelona, Madrid, Menorca, Seville or Palma de Mallorca for example.
Ibiza departures might be looking to board flights for destinations like Brussels, Berlin, Dublin, Venice, Hanover, Paris, London, Amsterdam, Bologna, Stuttgart or Milan. Budget airlines such as Air Nostrum, Air Berlin, Easyjet, Ryanair, Cityflyer Express, Vueling, Jet2.com, Monarch, Air Europa or Transavia Holland BV offer a plethora of European onward connections to passengers at fairly low prices, making Formentera and Ibiza popular holiday spots and also sought after locations for second homes.
Departures at Ibiza can return their hire cars to the rental stations of the official car hire suppliers on level 0 of the terminal building. Service teams from Avis, Europcar, Hertz and National Atesa open the car hire desks from 7.00 am to 11.00 pm at night every day.
Ibiza Buses from Line 10 provide a shuttle service from the towns and resorts to the airport via the main bus terminal in the city. Passengers are dropped off right next to the terminal building. Passengers opting to travel by taxi to the airport are charged approximately EUR 15.00 from the city center to the airport, when travelling during the day between 7.00 am and 9.00 pm from Mondays to Fridays and EUR 17.00 on Saturdays, Sundays and public holidays.
Ibiza Airport departures can leave their cars in the car parking lot directly opposite the terminal. The car park is located within a 3 minute walking distance of the terminal. Parking is charged at EUR 0.010583 per minute for the first hour of parking and thereafter at EUR 0.0185 per minute. The maximum charge for a full day of parking is EUR 10.80, dropping to just EUR 8.85 from the fifth day of parking onward. Parking for less than half an hour is free of charge, ideal for being dropped off at the airport by friends or family.
Departures at Ibiza Airport have a number of snack bars, bars and restaurants available, where they can purchase refreshments such as soft drinks, hot beverages, filled rolls or sandwiches. For last minute souvenir or gift shopping there are Duty Free shops located just off the departure lounges and a number of shops in the main terminal compound also provide goods like newspapers, maps, guide books, electronics, fashion, accessories and gastronomic produce from various regions across Spain.
Passengers requiring cash will find two banking facilities at the terminal. There are nine hotels located in close proximity to the airport, such as the Club Bahamas hotel complex in San José or El Corso in Ibiza Town for example, which make it easy to reach the return flight home on time.
Ibiza is a barrier free airport and passengers with reduced mobility should not have an difficulty using the airport's various services and facilities.
Ibiza departures who have problems with their luggage having been lost or damaged should visit one of the four Lost Luggage desks at the airport: Air Europa, Acconia Airport Service, Iberia and Ryanair (Lesma Handling) provide such a service desk.
For more information about departures, please visit the official airport website at www.aena-aeropuertos.es.
Was your flight delayed or cancelled?
You may be eligible to receive up to 600 EUR compensation per person in your party..
Claim Now!
Beat the Queues
Don't stand sweating for 45 mins waiting for Security. Get a fast track and get through in 5 mins or less.
Book now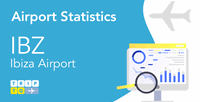 Ibiza Airport witnessed an impressive 6.41% increase in passenger numbers, totaling 1,221,654 passengers compared to September 2019's recorded total of 1,148,089 passengers...