Flights, Arrivals & Departures at Ibiza Airport
Origin
Airline
Flight no.
Scheduled
Est./Actual
Status
London (LGW)
British Airways
BA2874
00:05
00:06
Landed
London (LGW)
easyJet
U28105
00:20
00:02
Landed
Frankfurt (FRA)
Condor
DE1500
07:15
06:56
Landed
Malaga (AGP)
Ryanair
FR9469
07:20
07:08
Landed
Manises (VLC)
Iberia Regional
IB8430
07:35
07:23
Landed
Palma Mallorca (PMI)
Swiftair
WT103
07:35
07:33
Landed
Madrid (MAD)
Iberia Express
IB3810 expand_more(3)
07:40
07:53
Landed
Madrid (MAD)
American Airlines
AA8553
07:40
07:53
Landed
Madrid (MAD)
TAAG Angola Airlines
DT6810
07:40
07:53
Landed
Madrid (MAD)
Vueling
VY5396
07:40
07:53
Landed
Cologne (CGN)
Eurowings
EW544
07:45
08:29
Landed
Palma Mallorca (PMI)
Iberia Regional
IB8516
07:45
07:28
Landed
Pisa (PSA)
Malta Air
FR8874
07:50
07:29
Landed
Palma Mallorca (PMI)
Swiftair
WT7880 expand_more(1)
08:10
08:03
Landed
Palma Mallorca (PMI)
Air Europa
UX2057
08:10
08:03
Landed
Barcelona (BCN)
Vueling
VY3500 expand_more(1)
08:15
08:08
Landed
Barcelona (BCN)
Iberia
IB5325
08:15
08:08
Landed
Milan (MXP)
easyJet
U23735
08:15
08:00
Landed
Hanover (HAJ)
Air Hamburg
AHO767
08:23
08:32
Landed
Amsterdam (AMS)
Transavia
HV5671 expand_more(1)
08:25
08:22
Landed
Amsterdam (AMS)
KLM
KL2683
08:25
08:22
Landed
Munich (MUC)
Condor
DE1576
08:25
08:05
Landed
Geneva (GVA)
easyJet
U21397
08:30
09:16
Landed
Sevilla (SVQ)
Ryanair
FR5232
08:45
08:35
Landed
Sevilla (SVQ)
Vueling
VY2424 expand_more(1)
08:45
08:39
Landed
Sevilla (SVQ)
Iberia
IB5155
08:45
08:39
Landed
Barcelona (BCN)
Vueling
VY3502 expand_more(1)
08:55
08:24
Landed
Barcelona (BCN)
Iberia
IB5327
08:55
08:24
Landed
London (LGW)
easyJet
U28099
09:00
08:59
Landed
Zurich (ZRH)
Swiss
WK7266
09:00
08:47
Landed
Palma Mallorca (PMI)
Iberia Regional
IB8510
09:10
08:44
Landed
Rotterdam (RTM)
Transavia
HV5689
09:20
09:18
Landed
Paris (LBG)
JetFlite
JEF44
09:23
Scheduled
Madrid (MAD)
Air Europa
UX6029 expand_more(3)
09:30
09:13
Landed
Madrid (MAD)
Aeromexico
AM6904
09:30
09:13
Landed
Madrid (MAD)
Air France
AF4839
09:30
09:13
Landed
Madrid (MAD)
KLM
KL3329
09:30
09:13
Landed
Cardiff (CWL)
TUI
BY604
09:31
11:35
Landed
Bristol (BRS)
TUI
BY6696
09:40
Unknown
Bristol (BRS)
TUI
BY696
09:44
09:29
Landed
Manchester (MAN)
Jet2
LS169
09:50
10:17
Landed
Barcelona (BCN)
Ryanair
FR3028
09:55
11:13
Landed
London (LGW)
Titan Airways
BY5638
10:05
09:48
Landed
London (LCY)
British Airways
BA8461 expand_more(1)
10:05
10:02
Landed
London (LCY)
Iberia
IB7688
10:05
10:02
Landed
London (LCY)
British Airways
BA8463 expand_more(1)
10:15
09:55
Landed
London (LCY)
Iberia
IB7690
10:15
09:55
Landed
Paris (ORY)
Transavia
TO4760
10:20
10:06
Landed
Glasgow (GLA)
TUI
BY1608
10:25
10:09
Landed
Paris (ORY)
Vueling
VY6936 expand_more(1)
10:25
09:57
Landed
Paris (ORY)
Iberia
IB5940
10:25
09:57
Landed
Birmingham (BHX)
TUI
BY7632
10:30
10:24
Landed
London (STN)
Jet2
LS1473
10:40
10:29
Landed
Bergamo (BGY)
Ryanair
FR8334
10:50
11:59
Landed
Newcastle (NCL)
TUI
BY1690
10:50
10:46
Landed
Barcelona (BCN)
Vueling
VY3506 expand_more(2)
10:55
10:38
Landed
Barcelona (BCN)
Iberia
IB5331
10:55
10:38
Landed
Barcelona (BCN)
Qatar Airways
QR5521
10:55
10:38
Landed
Palma Mallorca (PMI)
Swiftair
WT7771 expand_more(1)
11:00
10:51
Landed
Palma Mallorca (PMI)
Air Europa
UX2051
11:00
10:51
Landed
Edinburgh (EDI)
Jet2
LS805
11:05
10:35
Landed
Madrid (MAD)
Vueling
VY3419 expand_more(2)
11:10
10:55
Landed
Madrid (MAD)
Iberia
IB5846
11:10
10:55
Landed
Madrid (MAD)
Qatar Airways
QR3545
11:10
10:55
Landed
NIce (NCE)
Air Hamburg
AHO657
11:16
11:50
Landed
Glasgow (GLA)
Jet2
LS119
11:20
11:02
Landed
Manchester (MAN)
TUI
BY2666
11:20
11:54
Landed
Leeds (LBA)
Jet2
LS197
11:35
11:21
Landed
Derby (EMA)
TUI
BY7612
11:40
11:23
Landed
Newcastle (NCL)
Jet2
LS555
11:40
11:18
Landed
Palma Mallorca (PMI)
Iberia Regional
IB8512
11:45
11:26
Landed
Frankfurt (FRA)
Discover Airlines
4Y530 expand_more(1)
11:55
11:48
Landed
Frankfurt (FRA)
Lufthansa
LH4308
11:55
11:48
Landed
London (LCY)
British Airways
BA8465 expand_more(1)
12:00
11:41
Landed
London (LCY)
Iberia
IB7692
12:00
11:41
Landed
Prague (PRG)
Airstream
AQS301
12:04
11:57
Landed
London (STN)
TUI
BY5622
12:05
11:44
Landed
Birmingham (BHX)
Jet2
LS1245
12:10
Scheduled
Madrid (MAD)
Ryanair
FR2066
12:15
Scheduled
Eindhoven (EIN)
Ryanair
FR3541
12:20
Scheduled
Madrid (MAD)
Iberia Express
IB3808 expand_more(3)
12:45
Scheduled
Madrid (MAD)
American Airlines
AA8785
12:45
Scheduled
Madrid (MAD)
Qatar Airways
QR6523
12:45
Scheduled
Madrid (MAD)
Vueling
VY5394
12:45
Scheduled
Bologna (BLQ)
Ryanair
FR3811
12:50
Scheduled
Manises (VLC)
Vueling
VY3695 expand_more(1)
12:50
Scheduled
Manises (VLC)
Iberia
IB5356
12:50
Scheduled
London (LGW)
British Airways
BA2564
13:00
Scheduled
Palma Mallorca (PMI)
Swiftair
WT7884 expand_more(1)
13:00
Scheduled
Palma Mallorca (PMI)
Air Europa
UX2061
13:00
Scheduled
Paris (ORY)
Transavia
TO4764
13:10
Delayed
Palma Mallorca (PMI)
Iberia Regional
IB8532
13:20
Scheduled
Milan (MXP)
easyJet
U23739
13:20
Scheduled
Bilbao (BIO)
Vueling
VY3974 expand_more(1)
13:30
Scheduled
Bilbao (BIO)
Iberia
IB5445
13:30
Scheduled
Bergamo (BGY)
Ryanair
FR8800
13:55
Scheduled
Bordeaux (BOD)
Ryanair
FR8102
14:00
Scheduled
Barcelona (BCN)
Vueling
VY3510 expand_more(2)
14:00
Scheduled
Barcelona (BCN)
Iberia
IB5337
14:00
Scheduled
Barcelona (BCN)
Qatar Airways
QR3737
14:00
Scheduled
Madrid (MAD)
Air Europa
UX6025 expand_more(7)
14:05
Scheduled
Madrid (MAD)
Aeromexico
AM6832
14:05
Scheduled
Madrid (MAD)
Air France
AF4810
14:05
Scheduled
Madrid (MAD)
AirSERBIA
JU7404
14:05
Scheduled
Madrid (MAD)
Delta Air Lines
DL6770
14:05
Scheduled
Madrid (MAD)
ITA Airways
AZ2402
14:05
Scheduled
Madrid (MAD)
KLM
KL3322
14:05
Scheduled
Madrid (MAD)
Turkish Airlines
TK9392
14:05
Scheduled
Lisbon (LIS)
TAP Air Portugal
TP1142 expand_more(2)
14:10
Scheduled
Lisbon (LIS)
Azores Airlines
S48247
14:10
Scheduled
Lisbon (LIS)
Emirates
EK4854
14:10
Scheduled
Hanover (HAJ)
TUI
X3944
14:17
Delayed
Luton (LTN)
easyJet
U22305
14:25
Scheduled
Hanover (HAJ)
TUI
X32944
14:30
Scheduled
Barcelona (BCN)
Vueling
VY3512 expand_more(2)
14:40
Scheduled
Barcelona (BCN)
Iberia
IB5339
14:40
Scheduled
Barcelona (BCN)
Qatar Airways
QR3625
14:40
Scheduled
London (LHR)
British Airways
BA452 expand_more(2)
14:45
Scheduled
London (LHR)
American Airlines
AA7022
14:45
Scheduled
London (LHR)
Iberia
IB7456
14:45
Scheduled
Frankfurt (FRA)
Lufthansa
LH1466 expand_more(1)
14:45
Delayed
Frankfurt (FRA)
Air Canada
AC9670
14:45
Delayed
Amsterdam (AMS)
Transavia
HV5679 expand_more(2)
14:55
Delayed
Amsterdam (AMS)
Delta Air Lines
DL7503
14:55
Delayed
Amsterdam (AMS)
KLM
KL2527
14:55
Delayed
Barcelona (BCN)
Ryanair
FR3129
15:00
Scheduled
Gudja (MLA)
VistaJet Malta
VJT437
15:02
Scheduled
Munich (MUC)
Lufthansa
LH1846 expand_more(1)
15:15
Scheduled
Munich (MUC)
Air Canada
AC9656
15:15
Scheduled
Luxembourg (LUX)
Luxair
LG651
15:20
14:55
Landed
Vienna (VIE)
VistaJet Malta
VJT495
15:25
Scheduled
Paris (CDG)
Air France
AF1190 expand_more(1)
15:40
Scheduled
Paris (CDG)
KLM
KL2290
15:40
Scheduled
Eindhoven (EIN)
Transavia
HV6513
15:40
Scheduled
Stuttgart (STR)
Eurowings
EW2544
15:50
Delayed
Manchester (MAN)
Ryanair
FR1263
15:50
Scheduled
Porto (OPO)
Vueling
VY6965
16:00
Scheduled
Palma Mallorca (PMI)
Iberia Regional
IB8534
16:10
Scheduled
Amsterdam (AMS)
KLM
KL1497 expand_more(2)
16:15
Scheduled
Amsterdam (AMS)
Air France
AF3233
16:15
Scheduled
Amsterdam (AMS)
Delta Air Lines
DL9381
16:15
Scheduled
Napoli (NAP)
easyJet
U24203
16:15
Scheduled
Geneva (GVA)
easyJet
U21399
16:25
Scheduled
Toulouse (TLS)
Ryanair
FR8124
16:40
Scheduled
Manchester (MAN)
easyJet
U22027
16:50
Scheduled
Manchester (MAN)
TUI
BY2678
16:55
Scheduled
Manises (VLC)
Ryanair
FR615
17:00
Scheduled
Palma Mallorca (PMI)
Iberia Regional
IB8518
17:20
Scheduled
Oviedo Aviles (OVD)
Volotea
V73923
17:40
Scheduled
Berlin (BER)
Ryanair
FR208
17:50
Scheduled
Dusseldorf (DUS)
Eurowings
EW9500
18:00
Scheduled
Amsterdam (AMS)
Vueling
VY3323 expand_more(1)
18:05
Scheduled
Amsterdam (AMS)
Iberia
IB5322
18:05
Scheduled
London (LGW)
British Airways
BA2872
18:05
Scheduled
Barcelona (BCN)
Vueling
VY3516 expand_more(2)
18:15
Scheduled
Barcelona (BCN)
Iberia
IB5343
18:15
Scheduled
Barcelona (BCN)
Qatar Airways
QR3585
18:15
Scheduled
Brussels (BRU)
Brussels Airlines
SN3777
18:20
Scheduled
Vienna (VIE)
Austrian Airlines
OS387
18:20
Scheduled
London (LHR)
British Airways
BA410 expand_more(1)
18:35
Scheduled
London (LHR)
Qatar Airways
QR9784
18:35
Scheduled
Brussels (BRU)
TUI
TB1331
18:45
Scheduled
Zurich (ZRH)
Swiss
WK266 expand_more(1)
18:45
Scheduled
Zurich (ZRH)
Swiss
LX8266
18:45
Scheduled
Amsterdam (AMS)
easyJet
U27891
18:50
Scheduled
Alicante (ALC)
Vueling
VY1354 expand_more(1)
18:55
Scheduled
Alicante (ALC)
Iberia
IB5029
18:55
Scheduled
Bristol (BRS)
Jet2
LS1835
19:05
Scheduled
Amsterdam (AMS)
KLM
KL1499 expand_more(1)
19:10
Scheduled
Amsterdam (AMS)
Delta Air Lines
DL9176
19:10
Scheduled
Palma Mallorca (PMI)
uep! Fly
WT7773 expand_more(1)
19:10
Scheduled
Palma Mallorca (PMI)
Air Europa
UX2053
19:10
Scheduled
Eindhoven (EIN)
Transavia
HV6517
19:15
Scheduled
Dusseldorf (DUS)
TUI
X32914
19:20
Scheduled
Barcelona (BCN)
Vueling
VY3522 expand_more(2)
19:25
Scheduled
Barcelona (BCN)
Iberia
IB5349
19:25
Scheduled
Barcelona (BCN)
Qatar Airways
QR3587
19:25
Scheduled
Norwich (NWI)
Sunwing Airlines
BY5686
19:30
Scheduled
Rome (FCO)
Ryanair
FR4139
19:35
Scheduled
Derby (EMA)
Jet2
LS643
19:50
Scheduled
Leeds (LBA)
Ryanair
FR2486
20:00
Scheduled
Madrid (MAD)
Vueling
VY3417 expand_more(2)
20:00
Scheduled
Madrid (MAD)
Iberia
IB5844
20:00
Scheduled
Madrid (MAD)
Qatar Airways
QR3540
20:00
Scheduled
Brussels (BRU)
Transavia
HV9013
20:05
Scheduled
Palma Mallorca (PMI)
Iberia Regional
IB8522
20:10
Scheduled
Napoli (NAP)
easyJet
U24205
20:25
Scheduled
Mulhouse basel (BSL)
easyJet
U21017
20:35
Scheduled
Geneva (GVA)
easyJet
U21387
20:35
Scheduled
Belfast (BFS)
easyJet
U23003
20:45
Scheduled
Madrid (MAD)
Iberia
IB3812 expand_more(6)
20:55
Scheduled
Madrid (MAD)
Air Baltic
BT5151
20:55
Scheduled
Madrid (MAD)
American Airlines
AA8731
20:55
Scheduled
Madrid (MAD)
LATAM Airlines
LA1680
20:55
Scheduled
Madrid (MAD)
Qatar Airways
QR5353
20:55
Scheduled
Madrid (MAD)
Royal Air Maroc
AT5361
20:55
Scheduled
Madrid (MAD)
Vueling
VY5398
20:55
Scheduled
London (STN)
Ryanair
FR9251
21:00
Scheduled
Porto (OPO)
easyJet
U27767
21:10
Scheduled
Madrid (MAD)
Air Europa
UX6027 expand_more(4)
21:15
Scheduled
Madrid (MAD)
Aeromexico
AM6863
21:15
Scheduled
Madrid (MAD)
Air France
AF4801
21:15
Scheduled
Madrid (MAD)
KLM
KL3327
21:15
Scheduled
Madrid (MAD)
Kuwait Airways
KU6087
21:15
Scheduled
London (LGW)
easyJet
U28103
21:20
Scheduled
Birmingham (BHX)
Ryanair
FR2711
21:30
Scheduled
Rotterdam (RTM)
Transavia
HV5687
21:30
Scheduled
Manises (VLC)
Ryanair
FR1698
21:35
Scheduled
Milan (MXP)
Vueling
VY6376 expand_more(1)
21:45
Scheduled
Milan (MXP)
Iberia
IB5536
21:45
Scheduled
NIce (NCE)
VistaJet Malta
VJT437
21:50
Scheduled
Barcelona (BCN)
Vueling
VY3518 expand_more(2)
21:55
Scheduled
Barcelona (BCN)
Iberia
IB5345
21:55
Scheduled
Barcelona (BCN)
Qatar Airways
QR3586
21:55
Scheduled
Palma Mallorca (PMI)
Iberia Regional
IB8524
21:55
Scheduled
Palma Mallorca (PMI)
uep! Fly
WT7775 expand_more(1)
22:00
Scheduled
Palma Mallorca (PMI)
Air Europa
UX2055
22:00
Scheduled
Malaga (AGP)
Ryanair
FR8146
22:20
Scheduled
Bristol (BRS)
easyJet
U22727
22:35
Scheduled
Milan (MXP)
easyJet
U23741
22:40
Scheduled
Bilbao (BIO)
Volotea
V73530
22:45
Scheduled
Bergamo (BGY)
Malta Air
FR9520
23:00
Scheduled
Palma Mallorca (PMI)
Iberia Regional
IB8538
23:10
Scheduled
Barcelona (BCN)
Ryanair
FR3174
23:15
Scheduled
Madrid (MAD)
Ryanair
FR2084
23:45
Scheduled
Luton (LTN)
easyJet
U22351
23:50
Scheduled
Destination
Airline
Flight no.
Scheduled
Est./Actual
Status
London (LGW)
easyJet
U28106
00:55
01:00
En-Route
London (LGW)
British Airways
BA2875
00:55
01:19
En-Route
Eindhoven (EIN)
Ryanair
FR3542
06:35
06:38
En-Route
Palma de Mallorca (PMI)
Iberia Regional
IB8511
07:00
07:06
En-Route
Madrid (MAD)
Vueling
VY3420 expand_more(2)
07:15
07:17
En-Route
Madrid (MAD)
Iberia
IB5847
07:15
07:17
En-Route
Madrid (MAD)
Qatar Airways
QR3590
07:15
07:17
En-Route
Malaga (AGP)
Ryanair
FR9470
07:55
08:09
En-Route
Valencia (VLC)
Iberia Regional
IB8431
08:15
08:18
En-Route
Frankfurt (FRA)
Condor
DE1501
08:15
08:20
En-Route
Palma de Mallorca (PMI)
Iberia Regional
IB8513
08:20
08:30
En-Route
Pisa (PSA)
Malta Air
FR8875
08:25
08:28
En-Route
Cologne (CGN)
Eurowings
EW545
08:30
09:40
En-Route
Madrid (MAD)
Iberia Express
IB3809 expand_more(5)
08:30
08:49
En-Route
Madrid (MAD)
Air Baltic
BT5226
08:30
08:49
En-Route
Madrid (MAD)
American Airlines
AA8788
08:30
08:49
En-Route
Madrid (MAD)
Qatar Airways
QR6527
08:30
08:49
En-Route
Madrid (MAD)
Royal Air Maroc
AT5360
08:30
08:49
En-Route
Madrid (MAD)
Vueling
VY5395
08:30
08:49
En-Route
Palma de Mallorca (PMI)
Swiftair
WT7881 expand_more(1)
08:45
08:51
En-Route
Palma de Mallorca (PMI)
Air Europa
UX2056
08:45
08:51
En-Route
Milan (MXP)
easyJet
U23736
08:50
08:57
En-Route
Barcelona (BCN)
Vueling
VY3501 expand_more(3)
08:55
09:03
En-Route
Barcelona (BCN)
Iberia
IB5326
08:55
09:03
En-Route
Barcelona (BCN)
LATAM Airlines
LA5833
08:55
09:03
En-Route
Barcelona (BCN)
Qatar Airways
QR3695
08:55
09:03
En-Route
London (LTN)
Platoon Aviation
PTN802
09:00
09:26
En-Route
Palma de Mallorca (PMI)
Swiftair
WT7770 expand_more(1)
09:00
09:00
En-Route
Palma de Mallorca (PMI)
Air Europa
UX2050
09:00
09:00
En-Route
Geneva (GVA)
easyJet
U21398
09:05
10:08
En-Route
Amsterdam (AMS)
Transavia
HV5672 expand_more(2)
09:20
09:50
En-Route
Amsterdam (AMS)
Delta Air Lines
DL7502
09:20
09:50
En-Route
Amsterdam (AMS)
KLM
KL2684
09:20
09:50
En-Route
Seville (SVQ)
Ryanair
FR5231
09:20
09:31
En-Route
Seville (SVQ)
Vueling
VY2425 expand_more(1)
09:25
09:36
En-Route
Seville (SVQ)
Iberia
IB5156
09:25
09:36
En-Route
London (LGW)
easyJet
U28100
09:35
09:53
En-Route
Barcelona (BCN)
Vueling
VY3503 expand_more(2)
09:35
09:44
En-Route
Barcelona (BCN)
Iberia
IB5328
09:35
09:44
En-Route
Barcelona (BCN)
Qatar Airways
QR3705
09:35
09:44
En-Route
Munich (MUC)
Condor
DE1577
09:35
09:37
En-Route
Palma de Mallorca (PMI)
Iberia Regional
IB8517
09:40
09:45
En-Route
Kaunas (KUN)
Qatar Executive
QE760
10:00
10:03
En-Route
Zurich (ZRH)
Swiss
WK7267
10:00
10:12
En-Route
Dubai (DWC)
Air Hamburg
AHO767
10:00
10:05
En-Route
Palma de Mallorca (PMI)
Silver Cloud Air
SCR168
10:00
10:10
En-Route
Eindhoven (EIN)
Transavia
HV6514
10:05
10:14
En-Route
Madrid (MAD)
Air Europa
UX6020 expand_more(6)
10:20
10:34
En-Route
Madrid (MAD)
Aeromexico
AM6807
10:20
10:34
En-Route
Madrid (MAD)
Air France
AF4792
10:20
10:34
En-Route
Madrid (MAD)
Delta Air Lines
DL6737
10:20
10:34
En-Route
Madrid (MAD)
ITA Airways
AZ2416
10:20
10:34
En-Route
Madrid (MAD)
KLM
KL3321
10:20
10:34
En-Route
Madrid (MAD)
Kuwait Airways
KU6070
10:20
10:34
En-Route
Cardiff (CWL)
TUI
BY6605
10:30
Scheduled
Barcelona (BCN)
Ryanair
FR3029
10:30
Scheduled
Nice (NCE)
JetFlite
JEF44
10:35
Scheduled
Bristol (BRS)
TUI
BY6697
10:40
10:47
En-Route
London (LCY)
British Airways
BA8462 expand_more(1)
10:45
11:11
En-Route
London (LCY)
Iberia
IB7689
10:45
11:11
En-Route
Manchester (MAN)
Jet2
LS170
10:50
Scheduled
London (LCY)
British Airways
BA8464 expand_more(1)
10:55
11:03
En-Route
London (LCY)
Iberia
IB7691
10:55
11:03
En-Route
Vilnius (VNO)
Charter Jets
LTC501
11:00
11:15
En-Route
Paris (ORY)
Vueling
VY6937 expand_more(1)
11:05
11:25
En-Route
Paris (ORY)
Iberia
IB5941
11:05
11:25
En-Route
Paris (ORY)
Transavia
TO4761
11:05
11:22
En-Route
London (LGW)
Titan Airways
BY5639
11:05
11:17
En-Route
Milan (BGY)
Ryanair
FR8335
11:25
Scheduled
Birmingham (BHX)
TUI
BY7633
11:30
11:39
En-Route
London (STN)
Jet2
LS1474
11:30
11:46
En-Route
Barcelona (BCN)
Vueling
VY3507 expand_more(2)
11:35
11:43
En-Route
Barcelona (BCN)
Iberia
IB5332
11:35
11:43
En-Route
Barcelona (BCN)
Qatar Airways
QR3704
11:35
11:43
En-Route
Glasgow (GLA)
TUI
BY1609
11:40
11:53
En-Route
Newcastle (NCL)
TUI
BY1691
11:50
Scheduled
Porto (OPO)
Vueling
VY6964
11:55
12:00
En-Route
Glasgow (GLA)
Jet2
LS120
12:05
Scheduled
Edinburgh (EDI)
Jet2
LS806
12:05
Scheduled
Palma de Mallorca (PMI)
Iberia Regional
IB8519
12:25
Scheduled
Newcastle (NCL)
Jet2
LS556
12:25
Scheduled
Leeds (LBA)
Jet2
LS198
12:30
Scheduled
Manchester (MAN)
TUI
BY667
12:35
Scheduled
Manchester (MAN)
TUI Airways
BY2667
12:35
Scheduled
London (STN)
British Airways
BA3292
12:40
Scheduled
Nottingham (EMA)
TUI
BY7613
12:40
Scheduled
Frankfurt (FRA)
Discover Airlines
4Y531 expand_more(1)
12:50
Scheduled
Frankfurt (FRA)
Lufthansa
LH4309
12:50
Scheduled
Madrid (MAD)
Ryanair
FR2067
12:50
Scheduled
Zurich (ZRH)
Airstream
AQS302
13:00
Scheduled
Birmingham (BHX)
Jet2
LS1246
13:00
Scheduled
London (STN)
TUI
BY5623
13:10
Scheduled
Madrid (MAD)
Iberia Express
IB3807 expand_more(3)
13:25
Scheduled
Madrid (MAD)
Air Baltic
BT5159
13:25
Scheduled
Madrid (MAD)
American Airlines
AA8786
13:25
Scheduled
Madrid (MAD)
Royal Air Maroc
AT5359
13:25
Scheduled
Bologna (BLQ)
Ryanair
FR3812
13:25
Scheduled
Valencia (VLC)
Vueling
VY3694 expand_more(1)
13:25
Scheduled
Valencia (VLC)
Iberia
IB5355
13:25
Scheduled
Palma de Mallorca (PMI)
Swiftair
WT7885 expand_more(1)
13:30
Scheduled
Palma de Mallorca (PMI)
Air Europa
UX2060
13:30
Scheduled
Leeds (LBA)
Ryanair
FR2487
13:35
Scheduled
London (LGW)
British Airways
BA2565
13:50
Scheduled
Milan (MXP)
easyJet
U23740
13:55
Scheduled
Paris (ORY)
Transavia
TO4765
13:55
Scheduled
Palma de Mallorca (PMI)
Iberia Regional
IB8533
14:00
Scheduled
Bilbao (BIO)
Vueling
VY3975 expand_more(1)
14:05
Scheduled
Bilbao (BIO)
Iberia
IB5446
14:05
Scheduled
Palma de Mallorca (PMI)
uep! Fly
WT7772 expand_more(1)
14:20
Scheduled
Palma de Mallorca (PMI)
Air Europa
UX2052
14:20
Scheduled
Milan (BGY)
Ryanair
FR8799
14:30
Scheduled
Bordeaux (BOD)
Ryanair
FR8103
14:40
Scheduled
Barcelona (BCN)
Vueling
VY3511 expand_more(1)
14:40
Scheduled
Barcelona (BCN)
Iberia
IB5338
14:40
Scheduled
Madrid (MAD)
Air Europa
UX6024 expand_more(6)
14:55
Scheduled
Madrid (MAD)
Aeromexico
AM6864
14:55
Scheduled
Madrid (MAD)
Air France
AF4811
14:55
Scheduled
Madrid (MAD)
AirSERBIA
JU7439
14:55
Scheduled
Madrid (MAD)
ITA Airways
AZ2429
14:55
Scheduled
Madrid (MAD)
KLM
KL3331
14:55
Scheduled
Madrid (MAD)
Turkish Airlines
TK9395
14:55
Scheduled
Lisbon (LIS)
TAP Air Portugal
TP1143 expand_more(2)
15:00
Scheduled
Lisbon (LIS)
Azores Airlines
S48248
15:00
Scheduled
Lisbon (LIS)
Emirates
EK4855
15:00
Scheduled
London (LTN)
easyJet
U22306
15:00
Scheduled
Beirut (BEY)
Air Hamburg
AHO657
15:00
Scheduled
Barcelona (BCN)
Vueling
VY3513 expand_more(1)
15:15
Scheduled
Barcelona (BCN)
Iberia
IB5340
15:15
Scheduled
Hannover (HAJ)
TUI
X3945
15:20
Scheduled
Hannover (HAJ)
TUI fly
X32945
15:20
Scheduled
London (LHR)
British Airways
BA453 expand_more(2)
15:35
Scheduled
London (LHR)
American Airlines
AA7054
15:35
Scheduled
London (LHR)
Iberia
IB7457
15:35
Scheduled
Rotterdam (RTM)
Transavia
HV5688
15:40
Scheduled
Barcelona (BCN)
Ryanair
FR3130
15:40
Scheduled
Frankfurt (FRA)
Lufthansa
LH1467 expand_more(1)
15:50
Scheduled
Frankfurt (FRA)
Air Canada
AC9002
15:50
Scheduled
Munich (MUC)
Lufthansa
LH1847
16:00
Scheduled
Nice (NCE)
VistaJet Malta
VJT437
16:10
Scheduled
Luxembourg (LUX)
Luxair
LG652
16:10
Scheduled
Manchester (MAN)
Ryanair
FR1264
16:25
Scheduled
Rotterdam (RTM)
Transavia
HV5690
16:25
Scheduled
Paris (CDG)
Air France
AF1191 expand_more(1)
16:30
Scheduled
Paris (CDG)
KLM
KL2291
16:30
Scheduled
Stuttgart (STR)
Eurowings
EW2545
16:40
Scheduled
Palma de Mallorca (PMI)
Iberia Regional
IB8535
16:45
Scheduled
Naples (NAP)
easyJet
U24204
16:50
Scheduled
Geneva (GVA)
easyJet
U21400
17:00
Scheduled
Milan (MXP)
Vueling
VY6375 expand_more(1)
17:05
Scheduled
Milan (MXP)
Iberia
IB5534
17:05
Scheduled
Toulouse (TLS)
Ryanair
FR8125
17:15
Scheduled
Amsterdam (AMS)
KLM
KL1498 expand_more(1)
17:20
Scheduled
Amsterdam (AMS)
Air France
AF3232
17:20
Scheduled
Manchester (MAN)
easyJet
U22028
17:25
Scheduled
Valencia (VLC)
Ryanair
FR616
17:35
Scheduled
Manchester (MAN)
TUI
BY2679
17:55
Scheduled
Palma de Mallorca (PMI)
Iberia Regional
IB8521
17:55
Scheduled
Bilbao (BIO)
Volotea
V73531
18:10
Scheduled
London (LGW)
TUI
BY4609
18:15
Scheduled
Berlin (BER)
Ryanair
FR209
18:30
Scheduled
Amsterdam (AMS)
Vueling
VY3322 expand_more(1)
18:40
Scheduled
Amsterdam (AMS)
Iberia
IB5321
18:40
Scheduled
Dusseldorf (DUS)
Eurowings
EW9501
18:45
Scheduled
Barcelona (BCN)
Vueling
VY3517 expand_more(1)
18:50
Scheduled
Barcelona (BCN)
Iberia
IB5344
18:50
Scheduled
London (LGW)
British Airways
BA2873
18:55
Scheduled
Vienna (VIE)
Austrian Airlines
OS388
19:05
Scheduled
Brussels (BRU)
Brussels Airlines
SN3778
19:10
Scheduled
Brussels (BRU)
TUI
TB1332
19:20
Scheduled
Amsterdam (AMS)
easyJet
U27892
19:25
Scheduled
Alicante (ALC)
Vueling
VY1353 expand_more(1)
19:30
Scheduled
Alicante (ALC)
Iberia
IB5028
19:30
Scheduled
Zurich (ZRH)
Swiss
WK267 expand_more(1)
19:35
Scheduled
Zurich (ZRH)
Swiss
LX8267
19:35
Scheduled
London (LHR)
British Airways
BA411 expand_more(1)
19:40
Scheduled
London (LHR)
Qatar Airways
QR9799
19:40
Scheduled
Bristol (BRS)
Jet2
LS1836
19:50
Scheduled
Palma de Mallorca (PMI)
uep! Fly
WT7774 expand_more(1)
19:50
Scheduled
Palma de Mallorca (PMI)
Air Europa
UX2054
19:50
Scheduled
Amsterdam (AMS)
KLM
KL1500
19:55
Scheduled
Barcelona (BCN)
Vueling
VY3523 expand_more(1)
20:00
Scheduled
Barcelona (BCN)
Iberia
IB5350
20:00
Scheduled
Eindhoven (EIN)
Transavia
HV6518
20:00
Scheduled
Rome (FCO)
Ryanair
FR4140
20:10
Scheduled
Dusseldorf (DUS)
TUI
X32915
20:10
Scheduled
Norwich (NWI)
Sunwing Airlines
BY5687
20:30
Scheduled
Nottingham (EMA)
Jet2
LS644
20:35
Scheduled
Madrid (MAD)
Ryanair
FR2085
20:40
Scheduled
Palma de Mallorca (PMI)
Iberia Regional
IB8525
20:45
Scheduled
Madrid (MAD)
Vueling
VY3418 expand_more(2)
20:45
Scheduled
Madrid (MAD)
Iberia
IB5845
20:45
Scheduled
Madrid (MAD)
Qatar Airways
QR3541
20:45
Scheduled
Brussels (BRU)
Transavia
HV9014
20:50
Scheduled
Naples (NAP)
easyJet
U24206
21:00
Scheduled
Geneva (GVA)
easyJet
U21388
21:10
Scheduled
Basel (BSL)
easyJet
U21018
21:10
Scheduled
Belfast (BFS)
easyJet
U23004
21:20
Scheduled
London (STN)
Ryanair
FR9252
21:35
Scheduled
Madrid (MAD)
Iberia Express
IB3811 expand_more(1)
21:40
Scheduled
Madrid (MAD)
Vueling
VY5113
21:40
Scheduled
Porto (OPO)
easyJet
U27768
21:50
Scheduled
London (LGW)
easyJet
U28104
21:55
Scheduled
Madrid (MAD)
Air Europa
UX6028 expand_more(2)
22:00
Scheduled
Madrid (MAD)
Aeromexico
AM6824
22:00
Scheduled
Madrid (MAD)
Air France
AF4793
22:00
Scheduled
Birmingham (BHX)
Ryanair
FR2712
22:05
Scheduled
Valencia (VLC)
Ryanair
FR1699
22:10
Scheduled
Amsterdam (AMS)
Transavia
HV5680 expand_more(1)
22:15
Scheduled
Amsterdam (AMS)
KLM
KL2526
22:15
Scheduled
Malaga (AGP)
Vueling
VY2456 expand_more(1)
22:20
Scheduled
Malaga (AGP)
Iberia
IB5159
22:20
Scheduled
Barcelona (BCN)
Vueling
VY3519 expand_more(1)
22:30
Scheduled
Barcelona (BCN)
Iberia
IB5346
22:30
Scheduled
Malaga (AGP)
Ryanair
FR8147
22:55
Scheduled
Bristol (BRS)
easyJet
U22728
23:10
Scheduled
Asturias (OVD)
Volotea
V73922
23:20
Scheduled
Milan (MXP)
easyJet
U23742
23:25
Scheduled
Milan (BGY)
Malta Air
FR9521
23:35
Scheduled
Palma de Mallorca (PMI)
Iberia Regional
IB8527
23:45
Scheduled
Barcelona (BCN)
Ryanair
FR3175
23:50
Scheduled
Flying To and From Ibiza Airport
This page provides information about the destinations that can be reached via Ibiza Airport.
Was your flight delayed or cancelled?
You may be eligible to receive up to 600 EUR compensation per person in your party..
Claim Now!
Beat the Queues
Don't stand sweating for 45 mins waiting for Security. Get a fast track and get through in 5 mins or less.
Book now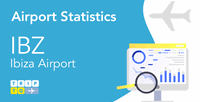 There has been a notable rise in the number of passengers at Ibiza Airport this July 2023, with 1,435,352 compared last July 2019 with 1,332,411. This translates to a growth rate of approximately 7.72%...